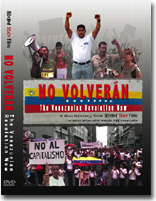 No Volverán
is a 90-minute documentary made by members of the Hands Off Venezuela campaign when they visited Venezuela in December 2006. While there they witnessed Hugo Chavez's landslide election victory and they also spent time at Sanitarios Maracay, a factory under co-operative workers' control.
The documentary can be watched by going to
this page on the HOV website
. Alternatively the DVD can also be purchased from Hands Off Venezuela directly.